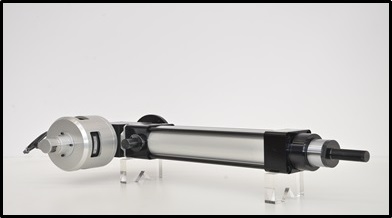 As alternative to hydraulic high force and speed cylinders, growing market demand concerning electrical actuators is developing several applications of our actuators ISO125.
First solution was made using mechanical screw jacks with ball screw, but some radial forces could create some unusual wear of ball screw nut, reducing lifetime of screw jacks.
Definitive proposal is for a 63x10mm ball screw ISO125 actuator with bevel gearbox and
3-phases motor; as options, actuator includes encoder and springs brake.
Combination of ball screw and bevel gear ensures a very high efficiency of system.