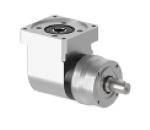 BPCE – Right Angle-Planetary gearbox
The new ATEK right angle planetary gearbox BPCE combines the features of the well known, compact, spiral toothed and low noise ATEK bevel gears with those of a planetary gearbox.
The spiral bevel gear stage ensures quiet and compact power transmission in a right angle, the planetary gearbox offers high torques and high gear ratios in the narrowest space.
In addition, the combination impresses with strong torsional stiffness and low backlash.
The motor flange of the right angle planetary gearbox is freely configurable and can be individually adapted to your motor.
For maximum flexibility, the right angle planetary gears are low-maintenance, lifetime-lubricated and optimized for mounting in all mounting positions.
This gives you the best possible flexibility for the positioning in your application.
Different sizes types and ratios are available for your application requirements.
---
Download Catalogue
Right Angle-Planetary gearbox ATEK_PDB_BPCE_EN.pdf
---
Image Gallery
not available