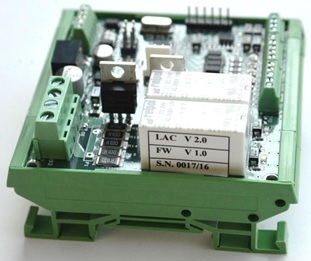 Electronic L.A.C. (Linear Actuator Controller) : Simple solution to control linear actuators powered with low voltage DC motors
The electronic LAC module can be used for general applications that use electrical actuators with or without feedback. Stand alone or multi synchronization operations are possible through a simple and high efficient serial network (I2C).
The unit is based on a simple PWM power circuit. The electrical motor is controlled by open loop power/speed mode; breaking action is made by decreasing command PWM and by short circuiting motor wires at the stop or on the target. It's strongly recommended to use it with acme screw actuators.
Positioning functions are available with feedback position sensor. The unit is programmable with: two virtual end strokes, "in windows position" gap, "max. error follower" alarm, from analog reference position, remote PC positioning and Master/Slaves synchronization. Actuator positioning accuracy depends on stroke length in case of the potentiometer or on total pulses included in the whole stroke.
This module may be interface to PLC or other control modules with optocoupled Input/Output signals at 12/24 voltage levels.
LAC is supplied with a proprietary Servosystem FW, but it includes the "boot loader" of the ARDUINO and may be re-programmed by user using a standard Arduino USB Serial Converter and the Arduino software IDE environment.
---
Download Catalogue
Drives and Controls - LAC_Linear Actuator Controller (0.3 MBytes)
---
Image Gallery